Hello {FIRST_NAME}
In this newsletter:
Two New Essential Oils produced by Enfleurage: Lily & Rose
Three New Types of Diffusers: Aromatherapy Inhaler; Aromatherapy Bowls; All Natural Reed Aromatherapy Diffusers
Next Aromatherapy Workshops: Level I Oct. 23th & 24th; Level II Nov. 20th & 21st
Summertime at Wyldhaven
---
Summertime at the Aromatherapy School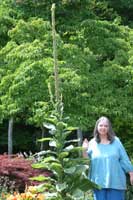 This summer has been a quiet time for teaching at The Aromatherapy School but a busy time for research, writing and working in the gardens at Wyldhaven, our organic farm near Asheville. The organic gardens have been going wild this summer with all the plants doing well but also lots of weeding to be done. In the kitchen garden, lots of tomatos and zucchini are ripe and ready for picking and in the ornamental garden it seems that most plants are growing much taller than planned - even a volunteer mullen grew to almost 10'. Additionally, Dr. Power is teaching Aromatherapy classes in the Asheville NC area for both the Chestnut School of Herbal Medicine and the Appalachia School of Holistic Herbalism. Her next two-day Aromatherapy School workshops will be in the Fall: Level I in October and Level II in November.

This month we are introducing two new, rare and truly wonderful essential oils produced by Enfleurage: Lily and Rose. Additionally, we now have a few unique non-motorized aromatherapy diffusers including an aromatherapy inhaler, aromatherapy bowls and a reed diffuser that uses all natural components. Research is now complete on a few more Artisan Aromatics so look for them in next month's newsletter. Also check out The Aromatherapy School website, www.aromatherapy-school.com, for a couple of unique products that we'll tell you more about next month.

---
Aromatherapy Workshops: The Science & Art of Aromatherapy
Location for Fall workshops will be at Wyldhaven (our organic farm near Asheville NC).
Level I: Oct. 23-24
Level II: Nov. 20-21
Level III & IV: Scheduled to begin in 2011 & 2012

Joie Power, Ph.D., director of The Aromatherapy School presents The Science and Art of Aromatherapy for professionals: Aromatherapists, Herbalists, Massage Therapists, Nurses, Doctors, etc. (others accepted by examination). 13 hrs. CEUs approved for AHG (American Herbalist's Guild) and 13 hrs. CEUs available to RAs (Registered Aromatherapists). An Aromatherapy Certificate for each Level (I thru IV) is presented by The Aromatherapy School. For more info on upcoming workshops click on link below.
---
New Artisan Aromatics: Lily & Rose
We offer a limited number of exceptional quality essential oils from artisan distillers. All are eco-ethically farmed, organic, or wildcrafted. Part of our exclusive collection of artisan quality oils has included two that are produced by Enfleurage, Gardenia and Tuberose. Now we are introducing two more Enfleurage Oils: Lily and Rose.

LILY: The aroma of this Lily essential oil is really quite lovely and delicate - a sweet floral aroma that brings joy to the senses. Also, it seems that we may be the only source on the web for Lily essential oil in the USA since a web search yielded no other suppliers.

ROSE: It is interesting to note that the aroma of our new Rose essential oil produced by Enfleurage is quite different from the aroma of our distilled Rose Otto. The Enfleurage Rose has a lighter, more delicate aroma than the Rose Otto that has an aroma that might be described as rich and sultry. Both aromas are definite "rose" but the difference between the delicate and the rich is intriguing.

To learn more about these and other oils from our exclusive line of Artisan Aromatics Essential Oils, click on the link below and then for more information on a particular oil click on the NAME of that essential oil.
---
Aromatherapy Diffusers
Our students have often asked about diffusers and we have offered a few for sale at our workshops so, now we have decided to offer diffusers thru our online shop too. All of our diffusers are non-mechanical and we have chosen three types:

Aromatherapy Inhalers
Aromatherapy Diffuser Bowls
Aromatherapy Reed Diffusers
Aromatherapy Inhaler: These metal aromatherapy diffusers come in six colors. Inside is a cotton filled glass vial into which you can add a few drops of essential oil easily using the included pipette. The Inhalers are about the size of a lipstick and so fit easily into pocket or purse. Use a few drops of Lavender oil to relax or Peppermint oil to help keep you alert or, use one of our fine Enfleurage florals like Gardenia, Lily, Rose, or even Tuberose (quite the aphrodisiac, you know).

Aromatherapy Diffuser Bowls: We have two types of these unique aromatherapy diffusers: One is about 2.5" in diameter and is made of glass and the other is about 3.5" in diameter and made of soapstone. Each comes with a brass mesh top. Place the included cotton ball in the diffuser and then add a few drops of essential oil. The gentle aroma of the essential oils will last for a few days to a week or more in this essenital oil diffuser depending on quantity and the specific essential oils you have chosen.

Add a few drops of Lavender Essential Oil to relax, Orange oil or Lemon oil for a bright/clean smell, Pine oil or Spruce oil for that aroma of the forest, or Peppermint oil to help keep you alert or, for exquisite floral aromas, try one of our fine Enfleurage florals like our Artisan Aromatics Gardenia Essential Oil, Lily Essential Oil, Rose Essential Oil or Tuberose Essential Oil. Use one aromatherapy diffuser bowl as an aroma diffuser for small rooms or on bedside tables. For large rooms, you may need to use multiple aroma diffuser bowls (depending on and amount and type of essential oil used).

Aromatherapy Reed Diffuser: These unique reed diffusers gently diffuse the aroma of essential oils into the air. Each aromatherapy reed diffuser includes:
The glass bottle of your choice
One dozen reeds

One 4 oz. bottle of 100% natural organic base oil

One 1ml vial of our pure organic Artisan Aromatics Orange Essential Oil from Crete
Note that these reed diffusers are quite different from the typical "fragrance" reed diffusers that abound. These Aromatherapy quality reed diffusers contain NO Synthetics, NO "Fragrance Oil" and, NO Chemicals. The are completely Natural and Organic and even the bottles are made from recycled glass.

Simply pour about 2oz. of our natural base oil into the glass bottle, add 20-30 (or more) drops of Pure Essential Oil, stir a bit, and add the reeds. The gentle aroma of the essential oils will last from days to weeks (depending on the amount and type). Our only caveat for use of our reed diffusers is that the aroma of the essential oils is not as strong as that of reed diffusers that use chemicals and synthetic fragrance oils. So, strong and bad for you or gentle and good for you - your choice.

Aromatherapy Diffusers
---
Finally, if this newsletter is just not "your cup of tea", we'd appreciate it if you would forward this email on to friends and family who might be interested. Please let them know that they can subscribe to our mailing list and receive future updates and newsletters by visiting our website: www.aromatherapy-school.com

Thanks for your time. We will strive to bring you even more informative newsletters in the future. Your feedback is important to us so please let us know if you feel that changes should be made in content or format and if there are any topics that you'd like us to cover in 2010.

Sincerely,

Joie Power, Ph.D., Dir.
Ivan G Prim, Gen. Mgr. & Newsletter Editor
The Aromatherapy School
www.aromatherapy-school.com

FYI - You received this newsletter because either you subscribed to it, or attended one of Dr. Power's classes, or had expressed interest in receiving notification of upcoming aromatherapy workshops or, purchased some of our products or, were on the subscriber list of our "old" Essential News Newsletter or contacted/purchased products from Dreaming Earth Botanicals (Dr. Power's former company). If you do not wish to receive further emails and/or newsletters from Dr. Joie Power or The Aromatherapy School, you may unsubscribe now by clicking on the "unsubscribe" link below.