Hello Friends,
In this newsletter:
Next Aromatherapy Workshops: April 24th & 25th / June 5th & 6th
New Essential Oils: Five More Artisan Aromatics
Natural Aphrodisiacs: Essential Oil Aphrodisiacs
Tuberose Essential Oil: The most Exquisite and Sensual of all the Essential Oils
---
Aromatherapy Workshops: The Science & Art of Aromatherapy
Location for next two Level I workshops is at a great B&B in NE GA, the York House Inn (between Franklin NC and Clayton GA)
Level I: April 24-25
Level I: June 5-6
Level II: Sept. 11-12
Level I: Tentative* dates: July 24-25 & Oct. 23-24)
Level II: Tentative* date: Nov. 20-21
Level III & IV: Scheduled to begin in 2011 & 2012
*Note that tentative class dates are currently "penciled in". Firm dates will be set by mid 2010.

Joie Power, Ph.D., director of The Aromatherapy School presents The Science and Art of Aromatherapy (for Aromatherapists, Herbalists, Massage Therapists, Nurses, Doctors, and all with true interest and willingness to learn about the Science and Art of Aromatherapy). 13 hrs. CEUs approved for AHG (American Herbalist's Guild) and 13 hrs. CEUs available to RAs (Registered Aromatherapists). An Aromatherapy Certificate for each Level (I thru IV) is presented by The Aromatherapy School.
For more info on upcoming workshops click: Next Workshop / To register, click on link below.

---
Five More Artisan Aromatics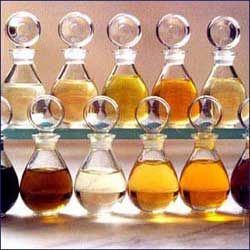 Last month the kickoff of our new line of Artisan Aromatics was a great success and this month we have added a few more exquisite oils for you to select from. As always, all of our essential oils are obtained directly from small grower/harvesters who produce their own essential oils in an eco-conscious manner.

The Aromatherapy School's collection of Artisan Aromatics represents the highest professional standards of excellence for essential oils and we believe that our decision to deal only in Artisan Aromatics is not only good for us, our customers, and our students, but is a necessary step towards an economy based on support of social and ecological responsibility.

The five new Artisan Aromatics that we're introducing this month include: Yarrow, Rose Otto, Pine, Orange, and Juniper Berry. As you may recall from last month's newsletter, our initial offering of Artisan Aromatics began with just four oils: Gardenia, Palo Santo, Bulgarian Lavender and Tuberose. The Gardenia and Tuberose are produced by a small farm in South America by Enfleurage and are quite exquisite. The Palo Santo oil is often used in traditional healing rituals.

To order any of our Artisan Aromatics, click on link below.
---
Natural Aphrodisiacs: Essential Oils and Sensuality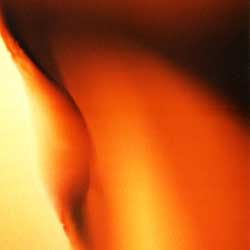 Scent is a simple way to set the mood for romance, whether applied as a perfume or diffused through a room. Scent affects the limbic brain, creating an immediate emotional response unaltered by logic or reason. Essential oils are a great tool to produce this effect.

The sense of smell is one of the most powerful senses in the human body and is able to alter mood, physical condition and the overall sense of wellbeing and particular scents increase the level and satisfaction of the sexual experience.

Quite a few essential oils are natural aphrodisiacs and are useful for maintaining, arousing and intensifying sexual desire. Dating back as far as the time of Cleopatra, essential oils of rose, jasmine and others have been used not only to symbolize love, passion, and desire, but for the physiological effects that sexually stimulate both the mind and the body.

In aromatherapy, we have powerful substances at our disposal which can help raise the libido. The essential oils with aphrodisiac properties are mostly warm, rich aromas, such as those that come from spices and certain flowers. Some essential oils are known for their ability to help balance both sexual and thyroid hormones and these aromas work on a physical level to boost the biological factors in romance and sex. Other essential oils stimulate the brain centers relating to the emotions.

Tuberose is without question the most powerful of natural essential oil aphrodisiacs. The aroma of Tuberose Essential Oil targets the brain to release stress, increase intimacy, create a warm and revitalized feeling and boosts blood circulation as well. (For more on Tuberose, please see next article.) Some other essential oils that work as aphrodisiacs include: Jasmine, Rose, Ylang Ylang, Myrrh, Geranium, Patchouli, Nutmeg, Clary Sage, Cinnamon, Ginger, Black Pepper.

Though the sense of smell plays a sometimes mysterious role in sex, it has been speculated that the connection between sex and aromas is as simple as happiness. If a smell makes you calmer or more confident, it may naturally contribute to loving feelings towards others, as well as more patience and tact. Smells that make people feel good about themselves may make them feel sexier and may also lower inhibitions.

A word of caution: DON'T get overenthusiastic when trying out these essential oils with aphrodisiac properties. As with all essential oil, these MUST BE DILUTED down to 2%- 2.5% LESS is MORE. Also, DO NOT apply essential oils (even diluted ones) directly to genital areas – apply them to the back and abdomen and/or to the soles of the feet.

To order Tuberose or Rose, or any of our Other Essential Oils, click on link below.
---
Tuberose Essential Oil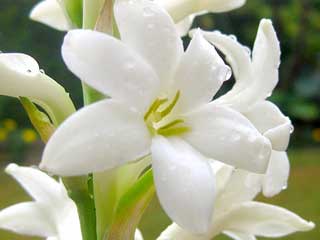 Our Tuberose Essential Oil (Botanical Name: Polianthes tuberosa) is pure and undiluted, extracted by the ancient method enfleurage using absolutely no chemical solvents.

Tuberose Essential Oil is one of the most precious oils in the world and is renowned for its' mesmerizing aroma and fragrance. The heavy, sometimes slightly spicy, tenacious and sweet-floral fragrance of the Tuberose flower is quite distinct from all others. Perfumes using Tuberose are considered to be quite fabulous and are very expensive. The unique aroma of Tuberose can rejuvenate the mind and body and Tuberose's magical fragrance also has powers as an aphrodisiac. In India it is called "Mistress of the Night".

Tuberose (Polianthes tuberosa) is native to Central America. Aztec healers called it omixochitl (bone-flower) due to the luminous white flowers and used it for traditional medicine, making use of its antiseptic, analgesic, anti-inflammatory and anti-spasmodic properties as well as its aphrodisiac and narcotic properties. In Ayurvedic tradition, tuberose is also known to stimulate serenity, creativity and psychic powers and is used to increase capacity for emotional depth by opening the crown chakra. Tuberose is also said to increase artistic inspiration as it stimulates creativity and brings serenity to the mind and heart. Additionally, it possesses powerful anti-spasmodic and anti-inflammatory healing properties as well.

Tuberose Essential Oil is world famous for its use in perfumes and its rich, intense and long lasting floral fragrance (although today almost all Tuberose used in perfumes is a solvent extracted "absolute"). The pleasant fragrance and some components of this oil have relaxing effects on the brain, nerves and the muscles. It calms down and gives relief from stress, tension, anxiety, depression, anger and nervous disorders. Tuberose Essential Oil is also good for reducing inflammation, particularly pertaining to nervous system and the respiratory system. The oil induces a warming effect by stimulates and increases blood circulation in the body and his warming effect counters feeling of cold in winters, keeps the respiratory system warm and also helps sexual disorders.

To learn more about our Tuberose Essential Oil or to place an order, click on link below.
---
We'd appreciate it if you would forward this email on to friends and family who might be interested. Please let them know that they can subscribe to our mailing list and receive future updates and newsletters by visiting our website: Subscribe

Thank for your time and we will strive to bring you even more informative newsletters in the future. Your feedback is important to us so please let us know if you feel that changes should be made in content or format and if there are any topics that you'd like us to cover in 2010.

Sincerely,

Joie Power, Ph.D., Dir.
The Aromatherapy School
www.aromatherapy-school.com

FYI - You received this newsletter because either you subscribed to it, or attended one of Dr. Power's classes, or had expressed interest in receiving notification of upcoming aromatherapy workshops or, were on the subscriber list of our "old" Essential News Newsletter or contacted/purchased products from Dreaming Earth Botanicals (Dr. Power's former company).